Staff Activities
Participation in Seminar and conferences: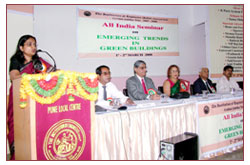 Archana Gaikwad in National seminar on green buildings at Pune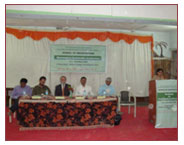 Seminar at Akola
QIP
Teaching faculty has been encouraged to participate in various quality improvement programs to upgrade knowledge base.
Quality improvement program titled Responding to Thermal Environment for the Teachers in Architecture Institutions was conducted at National Institute of Advanced Studies in Architecture sponsored by Council of Architecture New-Delhi from 3rd-7th October 2005.
Key Speakers were seven members from Center for Energy Conservation, B.V.D.U. College of Architecture
Training Workshop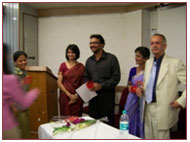 Prof. Kolhatkar at training workshop in Kolhapur
Guest Lectures
To encourage interaction between students and professionals and experts in various field related with architecture various guest lectures are organized regularly.
Institutional interaction

College has organized awareness workshops, seminars in association with MEDA, MNES, IIA, etc.
Product manufactures of construction industries such as Birla white, LEGRAND, etc. are invited regularly to demonstrate their products.
Participatory design exercise for Alternative Imageries of Slum Development- 2008
Staff and students of our college actively participated in a workshop organized by SPARC, MASHAAL, KRVIA and many more NGOs and academic institutions in Pune to explore the possibility of developing a long-term citywide strategy for upgrading informal settlements in Pune.
A basic Framework evolved with an objective to initiate a Relationship between local academic institutions and the urban poor, with a view to encouraging community participation and creative approaches to slum redevelopment (revitalization)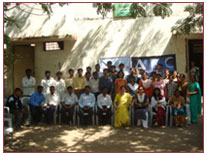 Students and staff at slum.